Recent Events in Education & Training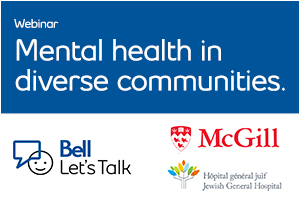 We are very pleased to announce that the webinar held on 21 January 2021 in collaboration with Bell Let's Talk, Mental health in diverse communities: A discussion about resiliency and mental well-being, is now available for viewing.
This webinar discusses the state of mental health in diverse communities in Quebec. It was moderated by Dr. Ghayda Hassan, PhD, clinical psychologist, professor of clinical psychology at the Université du Québec à Montréal (UQAM), and researcher with the SHERPA-RAPS team at CIUSSS Centre-Ouest-de-l'île-de-Montréal (in French only).